Sometimes life gets in the way of even simple home maintenance tasks – you might skip a few projects and then get overwhelmed by the mountain of items that need to get checked off your honey-do list.  In 2020, resolve to stay on top of those tasks that protect your home and provide most value and put your house on maintenance cruise control.
Start a List and Start Slow
January is a perfect time to work on your yearly project list – the weather is cold so many of your exterior projects can wait until spring and you have plenty of time to brainstorm. Break your projects into 5 categories: interior maintenance, interior updates, exterior maintenance, exterior updates, and major projects. Then breakdown what you want to try and tackle in the new year. Consider creating a budget for each project and a timeframe for start and completion. This will help you keep on track through the year and will also provide a template for simple maintenance for years.
HVAC Service
Your HVAC system is the most expensive equipment in your home and the best part is that it's easy to maintain. Simply call your favorite service tech to come and take a peek – service is usually $100-200 to clean, inspect and troubleshoot any issues.
Drainage Is Key
Poor drainage can quickly cause foundation issues and it's important to understand how to get water away from your home. First, walk the perimeter of your home and identify any areas sloping towards your foundation and correct any trouble spots. Next, see if your gutters and downspouts are working as they should. Repair leaks or provide downspout extensions to get water where it needs to be.
Consider High Value Tasks
When considering any updates, make sure your money is going towards high value updates that future buyers will value. The typical "kitchens and bathrooms" mantra for high value is a good go-by, but also consider surfaces – flooring, countertops and paint. These updates provide a lot of bang for the buck and can easily transform your home. For exterior high value updates – keep it simple. Often times trimming trees and bushes, cleaning up landscape, adding exterior lights and simplifying your look will resonate with potential home buyers.
Rinse and Repeat
The best part about creating a project list is that you can add and subtract items each year to stay on track and keep your home safe and well maintained.  You'll never need to worry about those little tasks that you let go. Before long you have a solid, yearly plan to help you stay on track.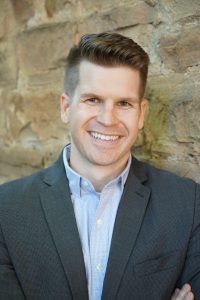 About the Author:  Jared Reimer is a native Coloradoan and an Associate Broker at Elevations Real Estate in Old Town Fort Collins.  He's a community advocate, business champion, blogger, leader, tireless volunteer, innovator, thinker and expert on all things real estate in Fort Collins and surrounding Northern Colorado.  You're likely to find Jared spending quality time outside with his wife, Kacie, and his kids, Hudson and Isla, or sharing a beer or two with a friend throughout Fort Collins.  Call or text Jared at 970.222.1049 or email him at Jared@TheCraftBroker.com