When you're building the home of your dreams, why wouldn't you implement all the latest smart-home features technology can offer? Pretty much everything you can imagine comes in a "smart form." This ranges from clocks to appliances to speakers to even cooking utensils. We know that the custom home buyer has typically owned at least one home in their life, and therefore understands the home-buying process and what they're looking for (regarding everything from location to construction materials to layout).
Our blog today discusses some smart home features you may or may not have thought of, but that you'll definitely want to consider when building and furnishing your new home. Reach out to our Jared Reimer today to make your (smart home) dreams come true.
Locks and Alarms
Smart alarms are becoming more and more common in homes, so you're not out of the ordinary if you're looking into installing a smart home security system. You can control your locks or alarm system from your device, which makes it easier to see who approaches your home. If you want to allow that person inside when you're not there, you can simply disable the alarm system or even unlock the door for them remotely. And if you're one of those people who is constantly digging through your bag or pockets looking for your key, go ahead and get keyless entry. You can share the key with anyone you'd like to, and then when they have their phone on them, they can simply touch the lock to open the door. This works especially well for visiting friends and family, dog sitters, cleaners, or childcare providers. You won't have to worry about keys being lost or stolen when you take a physical key out of the equation entirely. When you're building your new high end custom home, you may not be able to overlook this convenient technology.
Depending on what you're looking for in home security, you can install a DIY system or go with another, higher-end system that monitors and provides customer service 24/7. You won't have to be worried about your home when you're away, whether simply at work or on vacation; you can still take care of your home. Surveillance cameras have also become increasingly inexpensive on the market, while getting better and better technology at the same time.
Lighting
Smart lighting is a no-brainer at this point with homes. Do you know how far you can go with it though? There are so many different options with smart lighting, it can be overwhelming. These are a few of our favorites.
The Sengled Pulse smart bulb, for example, doesn't just let you adjust the brightness of the light from your phone; it also is a bluetooth speaker that can connect to music apps to stream your music inconspicuously.
Smart light bulbs allow you to adjust the intensity and color of the light. You can control the lights from your phone or even just your voice with Alexa, Siri, or others. When you're lying in bed at night and realize the lights are still on, don't bother with getting out of your restful position. Simply turn off the lights with your technology.
Automated lighting systems can also be excellent for your safety and security. When you're on vacation, you can make your home look inhabited by adjusting the lights; when you're getting out of your car at night, you can turn on all the lights from your phone so you're not fumbling to get into your house in the dark.
Lighting is a huge consideration when building a new home — go ahead and get the latest and greatest in lighting technology so that your home is the haven you want it to be.

Heating and Cooling
Smart thermostats save homeowners considerable percentages of money each year, so their popularity has been growing rapidly as a result. There are a lot of smart thermostats on the market, so make sure to do your research that you're getting all of the bells and whistles you want. These thermostats can adjust the house temperatures according to your schedule, whether there are people home or not, or even for hot or cold spots in different rooms. You can control it from your device or simply with your voice via Alexa and more. With the improved simplicity of this smart feature, along with its cost-saving side effect, smart thermostats deliver just what you want from smart devices: less work on your part.
As they grow in popularity, the technology is advancing in different ways. This means there are wide price ranges, lots of different sizes, and various styles, so that you can find just what matches you, your needs, and your home.
This is in no way an extensive, all-inclusive list of all the smart features you can install into your home. Shades, for example, are a big part of your home-building process, so why not get smart ones you can control from your phone while you're still in bed? The kitchen has seemingly boundless opportunities for smart devices — from ovens that you can preheat on your way home from work to wifi-enabled slow cookers you can control so you have a hot meal when you get home. Automatic self-controlled vacuums isn't the end of the list for smart cleaning, devices either. You can also indulge in robot mops, self-cleaning litter boxes, or automatic carpet cleaners.
Get devices that work for you, but be thinking of them before you start building your new home; doing so means the flow and storage of your home will work great with your smart features and it'll be easier for you to use them once your home is built. Jared Reimer wants you to reach your dream home goals, and if that means smart features that answer your beck and call, you'll want to plan ahead. Contact us today to see how we can help in building your Fort Collins high end custom home.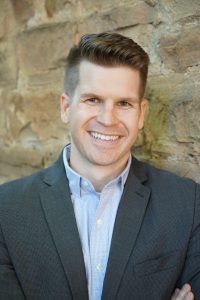 About the Author:  Jared Reimer is a native Coloradoan and an Associate Broker at Elevations Real Estate in Old Town Fort Collins.  He's a community advocate, business champion, blogger, leader, tireless volunteer, innovator, thinker and expert on all things real estate in Fort Collins and surrounding Northern Colorado.  You're likely to find Jared spending quality time outside with his wife, Kacie, and young son, Hudson, or sharing a beer or two with a friend throughout Fort Collins.  Call or text Jared at 970.222.1049 or email him at Jared@TheCraftBroker.com