The full effects of interest rates well into the high 6% and even low 7% range is starting to be felt across Northern Colorado as inventory is beginning to inch up.  While we were praying for additional inventory earlier in the year, so that buyers could have a bit more negotiating power, high interest rates have taken the wind out of buyer's sails.  There really is not a clear direction with the market currently.  Inventory levels, while increasing, are still not appreciably larger.  This means that home values are still not coming down, they are holding steady and even slightly increasing.  Prices will only drop when there are so many homes on the market that sellers need to drop prices to find a buyer and that certainly isn't the norm.  Right now, the only homes dropping in value are with the sellers (and their agents) who have the April 2022 vibes still going strong – when all you needed to do was put a sign in the yard and you received multiple offers above list price.  Those days are gone but my mantra rings true: price it right from the beginning and your home will find a strong buyer.
Looking For a Realtor?    View My Testimonials
Northern Colorado Median Home Values
Northern Colorado Home Sales
Fort Collins (IRES Area 9, Including Fort Collins, Wellington, Timnath, & Western Larimer County)
Fort Collins home values are still looking way up against September 2021 figures, with an over 12% increase to $585,000. However, median values are down from June highs of around $630,000.  The shock of interest rates are keeping both buyers and sellers (who will have to buy their next home) from jumping into the market. Inventory has definitely increased since May, across the board, but may be leveling off over the "off season", when we typically see much fewer homes come on the market. Sales are 20% off last year's figures as well, showing that even with increased home buying options, fewer buyers are taking the bait.
Loveland/Berthoud (IRES Area 8, Including Loveland, Berthoud, & SW Larimer County)
The Loveland/Berthoud market is falling in line with Fort Collins, having a 12% increase against September 2021, but a drop off the June/July highs in median value.  Like Fort Collins, sales are also off 20% from September 2021.  If fewer and fewer buyers participate in the market, inventory will begin to stack up, and once that happens – prices could continue a downward trend rather than hold firm.
Greeley/Evans (IRES Mail Cities Greeley and Evans)
The Greeley/Evans market also experienced a nice 12% gain in home values versus September 2021 figures, up to a median value of $443,119.   The biggest difference in the Greeley market is that sales aren't down nearly as much as the rest of the region, only down 5.39% from September.  This is common in more affordable markets where more value is perceived and prices are more palatable in higher interest rate environments.  Prices have hovered in the $450,000 range over the last 6 months in Greeley, and there hasn't been as much of a relaxing on prices as compared to the remainder of the region.
Inventory
Inventory is definitely up but really not to levels that would change the market dynamics appreciably.  The market was screaming upward in 2019 and 2020 when inventory levels were much higher.  Monthly supply, a metric used to measure the balance between supply and demand, has increased substantially to about 1.5-2 months (across the region), but it would take a huge infusion of inventory to increase that to a "balanced" level of 6 months.  Demand is still there, just not as robust as before as many buyers sit on the sidelines to wait out a rate drop.
Percent of List Price to Sold Price
The days of needing to over bid for the best properties are over, as we have seen a downward trend in the sales vs. list price metric.  Now, it appears that there can be some discounts on list prices, as evidenced by the metric dropping below the 100% mark.  We will likely see downward momentum here as sellers deal with the new normal of needing to price their homes correctly from the get go.
I provide the expert guidance, resources and confidence to easily make a move in Northern Colorado.  Every real estate transaction is unique and I work closely with you to develop a plan, strategy and approach to get the most out of your next sale or purchase. If you, a friend or a neighbor have a real estate need, please get in touch with me | Jared@TheCraftBroker.com or  970.222.1049
Subscribe to Market Reports     What's a Craft Broker?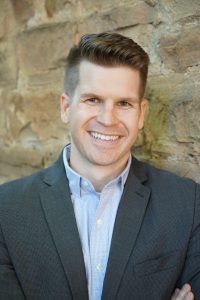 About the Author:  Jared Reimer is a native Coloradoan and an Associate Broker at Elevations Real Estate in Old Town Fort Collins.  He's a community advocate, business champion, blogger, leader, tireless volunteer, innovator, thinker and expert on all things real estate in Fort Collins and surrounding Northern Colorado.  You're likely to find Jared spending quality time outside with his wife, Kacie, and kids, Hudson and Isla, or sharing a beer or two with a friend throughout Fort Collins.  Call or text Jared at 970.222.1049 or email him at Jared@TheCraftBroker.com