When the time comes to make a move, in the right circumstances it may make sense to keep your previous house as a rental instead of selling.  While every situation is different, if done thoughtfully, renting your home can help your family create long term, meaningful wealth.  It does require extra work, some forethought, and a lot of number crunching.  Here's the process I give my clients who might be considering renting out their old home instead of buying.
Do You Want To?
If you've ever thought about buying investment real estate, renting out your old home when moving should be a logical first step.  For one, you already own it and likely purchased when prices were more favorable.  If you've never considered buying investment real estate before, I'd consider consulting with a real estate professional then seeing if it's something you might want to do.  It seems like an easy question, but some folks never even consider the option.
Can You?
This is where you need to consult with your mortgage professional.  Because the debt from your previous home will be added to the debt of your future home, you will need to have enough qualifying income to cover both mortgages (along with your consumer debt, student debt and car loans).  In some circumstances, this is not possible and you may need to find other less-conventional financing options if you really want to try to pull it off.  Additionally, if you don't have enough savings or other liquid assets to use as a downpayment on the next house, you may just need to sell your home rather than rent it.  Talk with your mortgage professional in this case – you may be able to get a home equity loan from your first home to help with the downpayment of the second home, but then you are adding to your debt load, which may not help with your qualifying or your comfort level.
Will Your Rental Cash Flow?
Cash flow is essentially defined as your rental income minus your expenses and mortgage debt.  Let's say you rent out your home for $2000 per month.  Let's subtract a $1000/mo mortgage (principal/interest), $110/mo in insurance, $230 in property taxes, $20 for HOA, and $200 as a maintenance reserve to keep on hand in case things breakdown.  $2000 income minus $1560 in expenses mean you cash flow $440 per month.  This house cash flows.  Obviously the bigger cash flow, the better the scenario.  If your house cash flows, I would suggest considering moving forward.  If it doesn't, you just need to understand that you are feeding the beast until rents rise high enough to begin cash flowing.
How Do You Feel About Management?
If you feel like you could handle creating leases, going on showings for prospective tenants, handling maintenance calls and managing the property in general, then I would say you're in a good spot.  Even if you don't feel comfortable with that, you can always hire a management company to handle everything from beginning to end.  It does eat into your bottom line (add another 8-12% of gross rents to your expenses column) but if you're cashflowing enough to justify it and remove the headache, go for it.
Will It Help You Meet Your Goals?
What I like about the renting instead of selling option is that your tenants will be further paying down your principal on your previous home, while you are gaining cash flow, tax benefits and hopefully appreciation on the home.  Consider it a house shaped bank account that is working for you as an asset.  Plus with the purchase of your new home, you'll be taking advantage of appreciation on both homes as the market increases.  In the future, the flexibility of owning just that one rental will be rewarded.  You may even pay it off completely, allowing you to pocket much more cash on a monthly basis – adding to your retirement funds or potentially college savings.  The more real estate you own, the more flexible your future will be.
Not sure if renting or selling your current home makes sense?  I can help you with every step while you consider.  Drop me a line at: Jared@TheCraftBroker.com or 970.222.1049.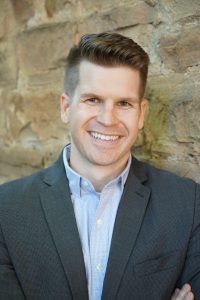 About the Author:  Jared Reimer is a native Coloradoan and an Associate Broker at Elevations Real Estate in Old Town Fort Collins.  He's a community advocate, business champion, blogger, leader, tireless volunteer, innovator, thinker and expert on all things real estate in Fort Collins and surrounding Northern Colorado.  You're likely to find Jared spending quality time outside with his wife, Kacie, and his kids, Hudson and Isla, or sharing a beer or two with a friend throughout Fort Collins.  Call or text Jared at 970.222.1049 or email him at Jared@TheCraftBroker.com