Real estate in Northern Colorado has gotten pretty sticky over the last 3-4 months, and as we head into the holiday season, it seems like buyers are taking the wait and see approach.  As it stands now, most industry experts believe that interest rates still have some room to come down, and prices also have some room to come down.  Right now, the fate of the market is in the buyers hands, for the first time in about a decade.  Buyers can continue to wait through the holidays and into the new year for even better interest rates to help with affordability, partnered with a pattern of slowly decreasing prices across the region.  Showings have nearly dried up, which has led to a decrease in sales between 24-42% in Loveland, Fort Collins and Greeley. It's going to be a long, cold winter for those looking to sell.
Looking For a Realtor?    View My Testimonials
Northern Colorado Median Home Values
Northern Colorado Home Sales
Fort Collins (IRES Area 9, Including Fort Collins, Wellington, Timnath, & Western Larimer County)
Sales in Fort Collins have taken a nose dive in the last two months, down 43% from November 2021.  A year ago, the market was still screaming hot heading into the holidays, while today there are a increased homes for sale, just no buyers walking through and purchasing them.  Even with increased inventory and low, low sales, prices are remaining steady, albeit declining slowly off of May/June highs.  This is the first prolonged dip in prices in about a decade.
Loveland/Berthoud (IRES Area 8, Including Loveland, Berthoud, & SW Larimer County)
The Loveland/Berthoud market is experiencing the exact same conditions as the Fort Collins area market, although Loveland's dip in prices have been a bit more pronounced and dramatic dropping from a nearly $600k median value to $555k.  Sales down over 40% as compared to last November as buyer activity has dried up.
Greeley/Evans (IRES Mail Cities Greeley and Evans)
The Greeley/Evans market is in a little bit of a different category as compared to the rest of the region.  Greeley/Evans is somewhat more affordable, and has "only" seen a 24% decrease in sales but it is still just as dreary in Greeley as the rest of the market.  After seeing highs in the $450k range in May/June, prices have relaxed back down to $415,000, just a few percent above November 2021 median values.
Inventory
Inventory, while higher than it has been the last two years, is still hitting the seasonal slowdown and instead of the amount of inventory being driven by new homes coming on the market, today's inventory is truly that – inventory – homes that have been on the market a few months without being sold – lingering much longer than normal.  We should expect to see increased inventory beginning in February and March, unless market conditions are such that sellers decide to hold off.
Percent of List Price to Sold Price
As buyers stay out of the market, now sellers have to work to attract and negotiate with buyers who have quite a bit more leverage. The chart below indicates how far off list prices the buyers are able to get.  It seems like, given the current conditions, that buyers will be able to get discounts for the foreseeable future.
I provide the expert guidance, resources and confidence to easily make a move in Northern Colorado.  Every real estate transaction is unique and I work closely with you to develop a plan, strategy and approach to get the most out of your next sale or purchase. If you, a friend or a neighbor have a real estate need, please get in touch with me | Jared@TheCraftBroker.com or  970.222.1049
Subscribe to Market Reports     What's a Craft Broker?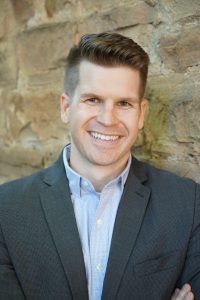 About the Author:  Jared Reimer is a native Coloradoan and an Associate Broker at Elevations Real Estate in Old Town Fort Collins.  He's a community advocate, business champion, blogger, leader, tireless volunteer, innovator, thinker and expert on all things real estate in Fort Collins and surrounding Northern Colorado.  You're likely to find Jared spending quality time outside with his wife, Kacie, and kids, Hudson and Isla, or sharing a beer or two with a friend throughout Fort Collins.  Call or text Jared at 970.222.1049 or email him at Jared@TheCraftBroker.com