When you're choosing a new home, it's not just for you and your children. Your new home will impact your furry friend as well! Read on to learn about some of the best dog parks in Fort Collins. When you choose a home with Jared Reimer, he wants to help with every part of your home-buying experience. We're with you for every last detail, including where the nearest dog park is to your new home. Read on to learn where they are, and then contact Jared to help you meet your needs (puppy's needs included).
Fossil Creek Dog Park
5821 S. Lemay Ave.
Fort Collins, CO 80525
This park is a great place to come with your family and spend the day. It's close to the city, but is designed to feel like an escape. The park has playgrounds and sports fields, but there's also plenty of space to enjoy nature in solitude. There are lit tennis courts, pavilions, horseshoe pits, a bike course, an interactive water feature (that kids love!), and, of course, the dog park. The Fossil Creek Dog Park area is located close to the entrance. It's just under an acre, but has a separate area for large and small dogs.
Spring Canyon Dog Park
2626 W. Horsetooth Road
Fort Collins, CO 80526
With almost 3 acres of fenced-in land for your dog to run around in, you'll be sure to tire your pup out by the time you leave! Bring a bowl for water (a water fountain is provided), but ditch the bags because bags and trash cans are spread throughout the park. Your dog can socialize and play with other dogs to their heart's content, but there is an area for small or shy dogs as well. Choose a sunny day this spring and visit Spring Canyon Dog Park!
Soft Gold Dog Park
520 Hickory St.
Fort Collins, CO 80524
The parking area is a ¼ mile from the dog park, so you'll be able to get a little walking in as well when you take your dog here. Make sure to bring water and a bowl to this is nice park on the north side of town. Depending on where you're looking to buy a home, this could be a great location! Soft Gold Dog Park is about 1 acre, and is a nice fenced-in park surrounded by trees.
Poudre Trail
2400 S County Rd 9
Fort Collins, CO 80525
If you and your pup are fans of trail running close to home, then you may want to have us help you find a home near the Poudre Trail. The entire trail is about 21 miles, and is well maintained for walking, running, cycling, and more. For a nice on-leash jog with your dog and a nice view, the Poudre Trail can't be beat. The trail follows the river, so you're guaranteed something nice to look at and possibly even some wildlife sightings.
Pineridge Natural Area
3745 Prospect Rd
Fort Collins, CO 80525
This is another great area for spending a day outdoors with your dog and family. Pineridge Natural Area has 7 miles for you, your kids, and your dog to run around and get the jitters out! It's popular for hiking, fishing, and biking, so be prepared because there could be a lot of people here on a weekend.
Jared is thrilled to help you in your search for a place to call home. We know how much dogs can mean to people, so if you self-identify as a dog person and are looking for a home near a local dog park, we're happy to help you out.
If you're starting the home-buying process in the Fort Collins area, you'll want to work with a trusted real estate agent like Jared Reimer.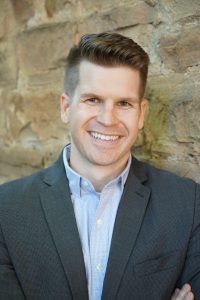 About the Author:  Jared Reimer is a native Coloradoan and an Associate Broker at Elevations Real Estate in Old Town Fort Collins.  He's a community advocate, business champion, blogger, leader, tireless volunteer, innovator, thinker and expert on all things real estate in Fort Collins and surrounding Northern Colorado.  You're likely to find Jared spending quality time outside with his wife, Kacie, and young son, Hudson, or sharing a beer or two with a friend throughout Fort Collins.  Call or text Jared at 970.222.1049 or email him at Jared@TheCraftBroker.com