Shopping in Northern Colorado
NOCO SHOPPING CULTURE
If it's variety that you're looking for, you can find it while shopping in Northern Colorado. Because of the region's unique location, the shopping in Northern Colorado caters to the needs of a wide range of consumer. The area's shopping centers are often visited by "out-of-towners" from Wyoming, Nebraska and along Colorado's front range. Tourists often flock to the region's downtown city centers for unique and eclectic shops, boutiques and stores. There they can find one of a kind items, specific to Northern Colorado. On top of that, Northern Colorado is home to several large malls and outlets, so you're always able to find what you need at your favorite major department store. The shopping in Northern Colorado just keeps getting better and better as we're seeing improvements to both major malls and downtown corridors.
NORTHERN COLORADO MALLS
The Promenade Shops at Centerra – The newest and largest Northern Colorado Mall sits at the intersection of Highway 34 and I-25, a perfect location and perfect setting for this remarkable outdoor mall. Home to Best Buy, Macy's, Dicks Sporting Goods, Victoria's Secret, Barnes and Noble and many other unique clothing, jewelry, and retail stores, you're certain to find what you're looking for.
Foothills Mall – Undergoing an entire re-development, expansion and rebranding, Foothills Mall will be a major draw for shoppers across Northern Colorado. With indoor and outdoor elements, a relaxed and casual atmosphere, and top notch department stores and boutiques, this Midtown Fort Collins gem will shine again with an estimated completion of December 2014. To see the vision of the mall's developers, see our recent blog post or follow them on twitter @RenaissanceFR or Foothills 2014.
The Greeley Mall – The Greeley mall is a big draw for Eastern Coloradoans, the first large mall with major department stores along the Highway 34 corridor. Anchored by Sears, JC Penney and a Cinemark theater along with several mall standards like Victoria's Secret, Foot Locker, and Finish Line the Greeley mall is a quick and easy destination.
Twin Peaks Mall – Just like the Foothills Mall in Fort Collins, the Twin Peaks mall in Longmont is scheduled for a re-development and rebranding as "Village at the Peaks". Home to Dillards, Sears, Claires along with Kay Jewelers, Pac Sun, and Foot Locker, the new development at Twin Peaks is boasting an all outdoor concept, with a new Theater, Whole Foods, and restaurants and anchor positions with mountain views. Click here to learn more about the development.NoCo's Best Restaurants
NORTHERN COLORADO OUTLETS AND SHOPPING CENTERS
The Outlets at Loveland – Looking for designer styles at a bargain? The Outlets at Loveland are a bargain hunters dream with most stores offering 30%-70% discounts. Across I25 from the Promenade Shops at Centerra, the Outlets are home to Coach, JCrew, Sketchers, Nike, Levi, Under Armour, OshKosh and Tommy Hilfiger stores among several others.
Front Range Village – Fort Collins newest shopping destination is Front Range Village. Conveniently located in SE Fort Collins, Front Range Village is home to Target, Lowes, Toys R Us, DSW, Sports Authority, Ulta and WorldMarket.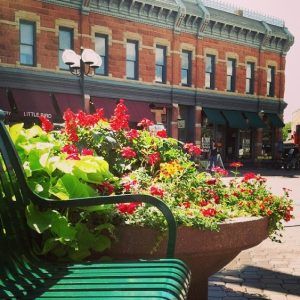 Shopping in our region's several quaint and unique shopping districts really help you appreciate the local store owners who cater the special needs of the locals. Stores displaying crafts, decor, gifts, specialty foods, clothing, shoes line the pedestrian friendly streets of our local down towns. Support the local economy and find something you wouldn't have found anywhere but Northern Colorado.
While shopping in Northern Colorado, you might find you'd like this gorgeous place 'home'. If that's the case, we'd love to have the opportunity to talk to you about buying a home in Northern Colorado. We're experts in relocation and can help make the process easy for you.